Merchandise
Jump to navigation
Jump to search
A few items were sold with Co-Optitude branding and catchphrases on them.
Official merchandise
Let's Play This F#cker shirt
The "Let's Play This F#cker" shirt was first announced July 23, 2014 on Twitter and was sold through WeLoveFine.
The shirt appeared in these episodes:
Mug
The Co-Optitude coffee mug features Felicia and Ryon in their 8-bit likenesses from the show intro with the Co-Optitude title between them. The Geek & Sundry online store launched around July 13, 2015, as announced in their tweet. No official social media post mentions the mug specifically, but based on when other people mention discovering the product, it's assumed the mug was a launch product with the new storefront.
Patches
Three sets of sew-on patches were created for San Diego Comic Con 2016 and were later made available on the online store. One set contained Felicia's 8-bit Co-Optitude character and a "P1" (for player 1) patch, and another included Ryon's 8-bit counterpart and a "P2" patch. Each patch is approximately 3 inches in diameter and can be applied using an iron to melt the glue on the back. There was also a third set of Critical Role themed patches introduced at the same time.
Third-party merchandise
We Might Not Get Far But We Get Fun shirt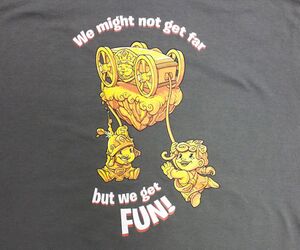 Frima Studios announced they would have a shirt available at their PAX East 2015 booth based on Felicia's line from the Chariot episode, "We might not get far, but we get fun."
This shirt appeared in these episodes:
Internal merchandise
Felicia and Ryon can sometimes be seen wearing custom Co-Optitude shirts that were not available for purchase. These were presumably made for the cast and crew in small quantities.
Blue Reset This Sh!t shirt
The earliest shirt featured on the show was this blue shirt featuring the text "reset this sh!t" and a line art SNES controller. The shirt was never sold, although in a tweet, they gave away three shirts. They were all size XL, which may indicate they ordered a very small number and that's all they had left over.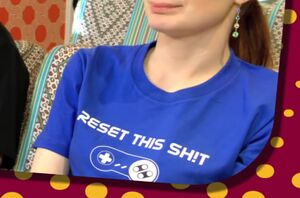 This shirt appeared in these episodes:
Blue Let's Play This F#cker shirt
These "Let's play this f#cker" shirts appeared in several episodes but were never sold. Not to be confused with the black "Let's play this f#cker" shirt that was sold through WeLoveFine.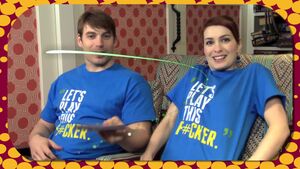 This shirt appeared in these episodes: