Co-Optitude
Jump to navigation
Jump to search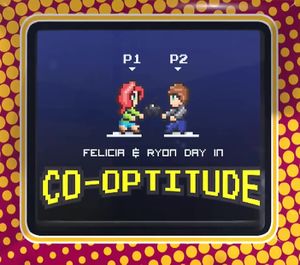 Co-Optitude was a weekly web series created by Felicia Day that premiered on May 27, 2013 on Geek & Sundry, a web video media company she founded the year prior. The show was a spin-off from her weekly vlog web series, The Flog, which featured several segments playing retro video games with her brother Ryon.
There were 149 aired episodes of Co-Optitude totaling over 37 hours, as well as several bonus videos and best-of compilations. Episodes got over 21 million views, over half a million likes, and over 61 thousand comments. The last episode aired January 9, 2017.
Premise
The original premise of the show was a continuation of the premise of The Flog's retro video game segments: for the Day siblings to play all the video games from their youth that they missed out on due to having no game consoles in the house. Early episodes proceeded in a loosely chronological way from 3rd generation consoles (such as NES and Sega Genesis) and moving forward through newer ones. As the series progressed, they also deviated into modern games and would occasionally revisit older platforms. Later episodes made a point of featuring independent games to help support them.
Felicia and Ryon are siblings, and much of the humor derived from their antagonistic sibling rivalry.
The hosts almost always went into the games blind, doing no research about them, often being completely unaware of anything about games that were wildly popular in their time. This added a unique element to the episodes, lending a completely uninitiated perspective on games that were often well established in the public consciousness. They often made a joke of ignoring the manuals that came with the game, skipping tutorials, and dismissing in-game prompts on how to play.
While the show wasn't focused specifically on playing notoriously bad games, that was a recurring feature and made for some of the funniest episodes. Watching the hosts react to bizarre or especially enjoyable games was also a source of entertainment.
Running jokes and traditions
In "Goof Troop," Ryon started the gameplay portion by saying, "Let's play this fucker." It became a catchphrase that appeared in most future episodes, or sometimes a thematic variant like, "Let's investigate this fucker" for "CSI: Hard Evidence."
At the end of episodes, they asked viewers to share the videos, click "like" on the videos, and subscribe to the channel. They played with several portmanteaus of these words before finally arriving on "sharelikascribe."
Whenever one of them said "turn around," they would often break into singing Total Eclipse of the Heart, or a version with impromptu lyrics about the game, such as Felicia's extended bread-themed ad lib in "I Am Bread."
Whenever a game let players pick their own names, they would often pick ones that were crude. This started with "Pokémon Snap" when Felicia entered the name "ANUSS." In "Secret of Mana, pt 2" they named a character "POOPY". These two names in various spelling variations became their go-tos in many future episodes.
Ratings
At the end of most episodes, they would rate it using arbitrary numbers and thematic units.
Guests
The show had numerous guests, especially in the period between late 2014 and early 2015. Guests would join Felicia and Ryon for a single episode. Most guests were friends of Felicia's or other personalities on YouTube.
Guest hosts
Sometimes Felicia and/or Ryon were unable to film, and other Geek & Sundry talent were brought in to substitute for them. Felicia's pregnancy toward the end of the series caused a lot of missed episodes, so there are more guest hosts in the final episodes.
Merchandise
A small number of official Co-Optitude items were sold on the Geek & Sundry online store and at conventions.
Game platforms
Games span from the Nintendo Entertainment System as the oldest all the way up to contemporary consoles and PC games.
Many games are of indeterminate platform due to the game being available on multiple platforms and the hosts not specifically pointing out which one they were playing.
Future of the series
It is almost certain Co-Optitude in its previous form will not continue. Felicia is no longer with Geek & Sundry, nor are most of the crew involved in the show. At present, Geek & Sundry seems to be winding down on any substantial new content creation. Legendary Digital Networks, Geek & Sundry's parent company, retains the rights to Co-Optitude.
Ryon has spoken on numerous occasions about future possibilities for the show and how the loss of inertia would make resuming it next to impossible in that form. The crew who were responsible for much of the flavor of the show have all moved on to other companies and projects. Additionally, Ryon has said there may not be much ground left to cover by the series in its original form.
However, both Felicia and Ryon have expressed a lot of fondness for the series and hope they can find a way to make more content around gaming together. Any such effort would probably not be exactly like Co-Optitude, but may share a lot of its spirit. At present there are no firm plans that have been shared publicly.
Where to watch
Most episodes are still on YouTube on the Geek & Sundry channel. A couple episodes have been set to private for unknown reasons. Most bonus videos were also marked private.
These YouTube playlists contain all known content in the order it was aired, including the private videos which will not play.
All episodes - All regular Co-Optitude episodes in chronological order by air date
All episodes + bonus - All Co-Optitude episodes, The Flog episodes with retro video game playthroughs, bonus content, promos, and best-of compilations in chronological order by air date
Some episodes were hosted on Brightcove and embedded in the Geek & Sundry website, but none of these appear to be available anymore.
Episodes were watchable on Alpha, Legendary Digital Network's foray into a subscription streaming service. However, Alpha shut down on March 31, 2019.
Episodes have been spotted on Pluto.tv as well.
External links